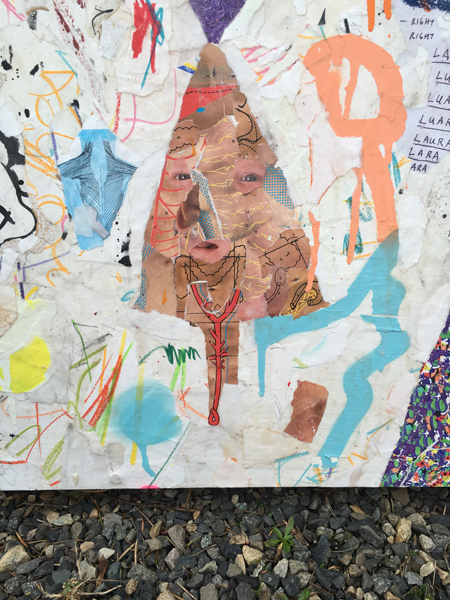 Solo exhibition featuring paintings by resident artist Brian Chippendale.  Opening Feb 11th, 2016 from 6-9 pm at 1905 NW 23rd Place, Portland, Or 97210.  Show will be open the 12th and 13th of Feb from 1-6 pm and by appt until the 18th of February.
July 19th, 2015
We'll again be hosting an art and ecology table at the annual picnic of the Friends of the Columbia Gorge, local advocacy group and true guardians of the National Scenic Area.  Like last year this event will be held at its new location, an established oak stand which I've been restoring along with some help from the Friends.
In March 2012 Kahnaway founders present a joint installation at the Pendleton Center for the Arts. Nell Warren's careful repurposing of paint is coupled with her love of antiques and Greg Misarti's design input and resource-conscious carpentry to exhibit this manifestation of material in a glimpse, frozen in time, of a mad painter's mechanical paint studio mid-production.
2015 will be our fifth straight year spending five days up at Beacon Rock Day Use Area, where we host an art table for the Clausen Youth Program.  The wonderful people at Friends of the Gorge have made the district's only remaining outdoor school possible thanks to the donation of a gracious Vancouver woman named Phyllis Clausen in honor of her late husband. We're looking forward to more instructive fun again in June 2016!
Above are some pics from the art table Kahnaway ran in 2012.  The wonderful kids from Canyon Creek Elementary sent me these along with some hand made leaf rubbing thank you cards - what could have been a better reward?  Thank YOU guys!